Sun Safety This Summer
Ok, we all hear "use your sunscreen," but do you know what's really in your sunscreen? A few years back, the very beautiful supermodel Gisele Bundchen, was quoted saying (about sunscreen), "I cannot put this poison on my skin... I do not use anything synthetic."
She later clarified in this statement on her blog, "I feel we all need to pay more attention to what we are putting on our skin. I definitely know the importance of using sunscreen and I try to look for more natural options."
The five ingredients I avoid in my sunscreen Oxybenzone, Octinoxate, Octocrylene, Octisalate, and Homosalate. You can find research that says these chemicals are dangerous and some that say it's all baloney, but I say, "When in doubt leave it out."
A few of these chemicals are also on the chopping block because they are toxic to our oceans. Hawaii introduced a bill, SB 2571, which states the chemicals, oxybenzone and octinoxate, "have significant harmful impacts on Hawaii's marine environment and residing ecosystems." The bill aims to keep sunscreens that contain the chemicals off store shelves.
On a personal note, I have extremely sensitive skin and most sunscreens cause me to break out and itch almost instantly. When I switched to a mineral line it never happened again.
There are a few things that aren't so great about mineral sunscreens. My friend Andrea, who asked me to write this blog, expressed her concerns and I hate to break it to you Drea, but there are some strict guidelines when using these sunscreens.
1. You must remember that all mineral sunscreens need to be reapplied! If you are sitting in the pool, in direct sun, or you are extremely fair skinned, 80 minutes is all you get. Set the timer on you phone so you don't forget.
2. They are thick and not the easiest to apply.
3. After a year you need to pitch them (so my northern friend buy new ones every summer.)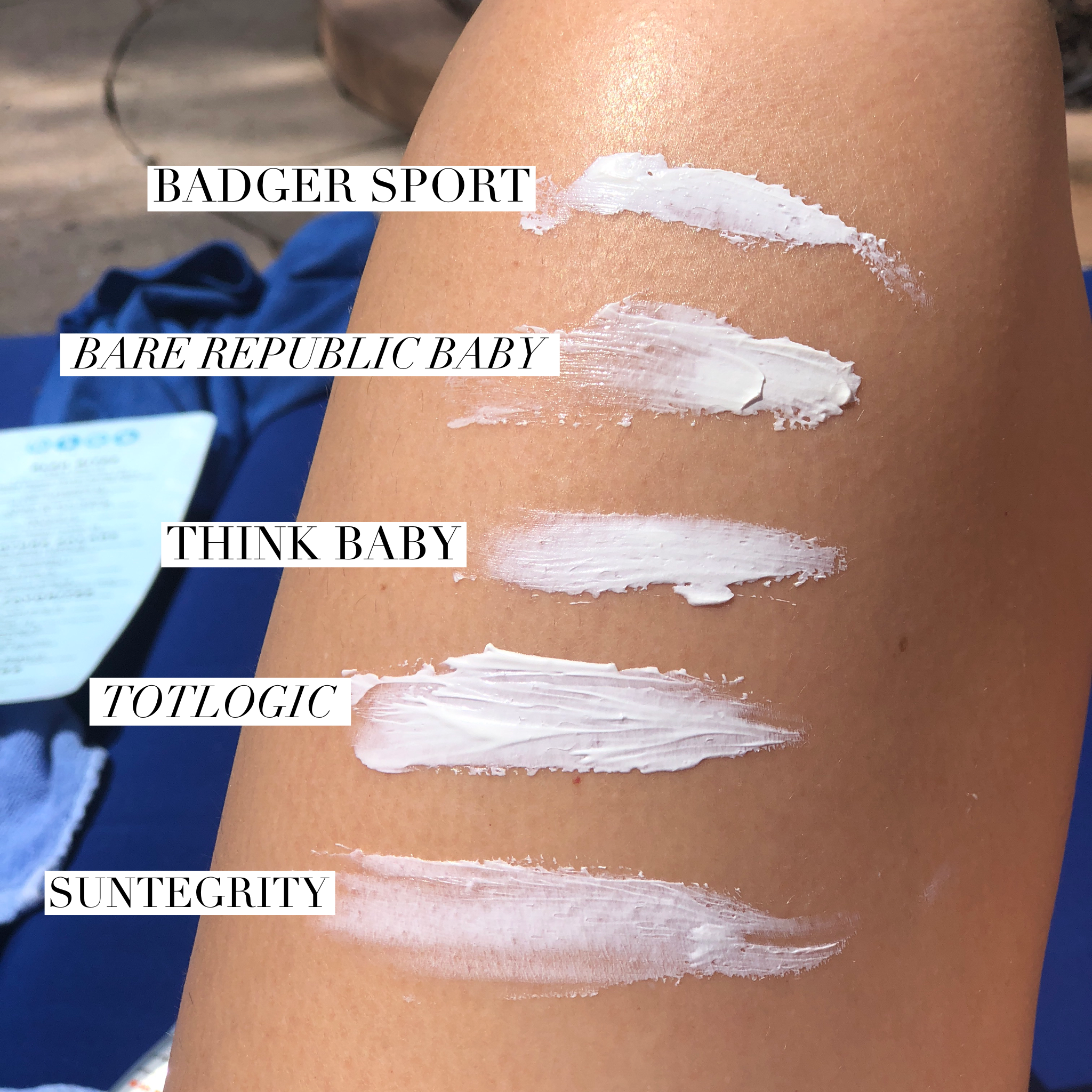 I tested five sunscreens on myself and my kids. The brands were Bare Republic Baby, Totlogic, Think Baby, Badger Sport, and Suntergrity.
When comparing the ingredients they are all similar, but there are two brands I would recommend over the others based on price, effectiveness, and ingredients.
1. Think Baby:
It was my favorite. It had a pleasant smell and some pretty impressive ingredients (other than zinc oxide non-Nano) like Aloe Juice, Hyaluronic Acid, Cranberry Seed Oil (a great anti-oxidant) and Raspberry Seed oil, a study in 2000 found that this ingredient had natural SPF properties. I use to make my own sunscreen and would put Raspberry Seed oil in it. At under $10 it's a good buy and really works.
2. Badger Sport:
What I love about Badger is it has been around for a while and it's easily accessible (some Targets and Walgreens will carry this brand.) It has a high concentration of Non-Nano Uncoated Zinc Oxide at 22.5%. Badger offers a few different types of sunscreen, some with bug repellant and another for babies.
Here are a few other items you may want to pick up for the summer.
Rashguard:
Pop this baby on your baby to protect them while in the sun. These shirts have an spf of 50+ and you won't have to worry reapplying sunscreen.
After Sun Care:
Every one in a while I do get the occasional "oops" burn. When this happens I instantly apply Neal's Yard, Wild Rose Beauty Balm. This award-winning jar of goodness is amazing. It has won numerous beauty awards but is extremely soothing and healing. It is a bit pricy but I think it's worth every penny. You can also use it as an all-natural cheek highlighter (for a dewy look), cleanser, moisturizer, eyebrow tamer, mask, cuticle repair balm, and on your lips.